R.Strauss
Gavotte from Suite Opus 4
July 2018
Now you can find the full arrangement of The R.Strauss Suite opus 4 here: LINK
My first score entirely written in DORICO
Since 1993 I have used Music-software with my students on the Royal Academy of Music in Aarhus, Denmark. We used Sibelius from its start many years ago. I have thousands of Sib-scores on my computer and always advocated the program.
But the original Sibelius-team (they were fired by the new owner Avid) could start from scratch and create a new program, DORICO for Steinberg. And I must admit that its functions are on a level I never had met before.
DORICO is only half a year on the market, already with 3 updates, and the next (version 1.1) will arrive before end of June 2017 - now with repeats and chord symbols more sophisti-cated than any other program.
The Strauss-score here is written only using the automatic layout. There are more options for finetuning. And the sounds are from the Halion soundbank following DORICO - only balanced a little in the Dorico-mixer. Take a look and listen to the mp3. And take a look on the demo-videos here: YouTube
DORICO er designet, så programmet kan anvendes på en laptop. Jeg bruger et dansk tastatur hvor jeg har ændret nogen af genvejene. Tryk på billedet.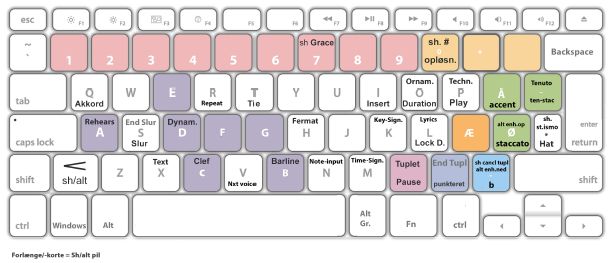 Opdateret til version 1.2
DORICO half price for Sibelius- and Finale-users until 30.june 2017
LINK
Best greetings from Arne Dich
Score

1.Flute

2.Flute

1. Oboe

2.Oboe

1. Clarinet in Bb

2. Clarinet in Bb

1. Bassoon

2.Bassoon

Contra-Bassoon

1. Horn in F

2. Horn in F

1. Horn in Bb

2. Horn in Bb

Sound from Dorico

Original Score

The DORICO-file of the score

LINK